Welcome to Alien Surf Girls Wiki
The wiki about Alien Surf Girls! that anyone can edit
68 articles since April 22, 2012
Please read the Site Policy before you start editing!
Alien Surf Girls When a spaceship carrying pretty, surf-crazy teen aliens Zoey and Kiki lands on Earth, the quiet Australian surf town of Lightning Point becomes the scene of intergalactic teen drama, with adventure, romance – and surfing! As their space ship explodes, the girls have to befriend local surfiegirl Amber and let her in on their secret. But while the duo learns about Earth, surf and falling in love, the girls soon realize that they aren't the first extraterrestrial visitors to Lightning Point...
Kiki Revealed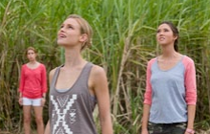 When a storm is forecast to hit Lightning Point, Zoey and Kiki know it's time – they can send a signal through the lightning, via the energy field and back to Lumina. The trio is sad that their time together is coming to an end as they prepare to leave. But Luca Benedict and Brandon, buoyed by Brandon's recent sighting have a plan to catch the aliens. (Read more...)
---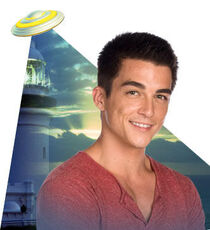 Luca Benedict is Amber's best friend, and has been since they were little kids. He's fascinated with extraterrestrial life, and believes a UFO landed in Lightning Point the night of the big storm. Luca's adopted brother, Brandon, teases him for believing in aliens, so Luca is desperate to prove, once and for all, that they exist. (Read more...)

Wednesdays at 8:00pm on TeenNick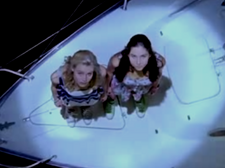 Flight aired on:
November 21, 2012.
Amber, Zoey and Kiki take a last surf of Lightning Point's waves. Zoey and Kiki will miss this place – and Amber – when they leave for Lumina tonight with Brandon.
(Read more...)
Latest Blog Posts
Why do kiki & Zoey dance when they recharge? whoever can give me the right answer wins a $50 gift c…
THE FIRST EPISODE SAW TE TWO ALEINS ARRIVE IN LIGHTING POINT
THIS EPISODE WAS GOOD HOW AMBER FIND OU…
See more >