Amber Mitchell
grew up in
Lightning Point
—and her life was pretty normal until two alien girls from the planet Lumina turn to her for help.
Zoey
and
Kiki
are unusual, unpredictable, and completely unaware how to fit in on Earth.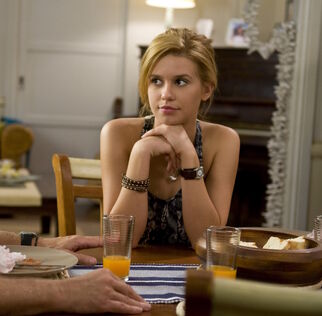 Amber lives with her mom, who works as a police sergeant, and their dog, Piper. She's best friends with Luca Benedict, but she doesn't share his obsession with aliens. When she's not teaching Zoey and Kiki how to act more human, she teaches little kids how to surf.
Background
Edit
Amber's life is turned completely upside down by the arrival of Zoey and Kiki. Since her parents' divorce she has avoided upheaval – but Zoey and Kiki drag Amber out of her comfort zone and into a series of adventures. Amber's not a geek but she hasn't got any close girlfriends – her neighbor Luca is her best friend, but there is only so much you can share with a boy.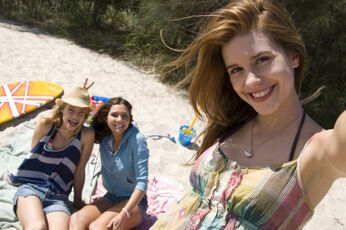 So when Zoey and Kiki arrive in town Amber is secretly pleased to have two female friends to hang out with, even if that does mean running around after them cleaning up the havoc they cause. Meeting Zoey and Kiki is a steep learning curve for Amber – not only do these girls have higher intellect, advanced technology and alien powers, they don't have a clue about how to handle their new found human emotions, not to mention their total ignorance of teenage social rules.
It's a bit of a challenge to keep their identities secret in a small town like Lightning Point, and for better or worse Amber finds herself covering for them – luckily she has a great sense of humor! Amber has grown up in Lightning Point, and is a part of the community. Her mother, Olivia, is the local Police Sergeant, which can be a bit of a challenge when you are harboring two headstrong aliens! Amber is a keen surfer, and teaches a junior surfing class on the main beach. She is currently in a relationship with Josh.
This character is played by Philippa Coulthard .